It's time to get more WFH — workouts from home! — on the calendar. Creating a safe and efficient space in your home is easier with your trusted Good Housekeeping Institute pros providing you with everything you need for your home gym. Even if you plan on returning to the health club, our expert picks and tips will set you up for peak fitness in 2022. The following selection offers something for everyone, whether you're hoping to jumpstart a new 2022 goal, solidify an existing workout regime or up the ante with some new large-scale equipment picks.
The second annual Good Housekeeping Institute Fitness Awards are proof-positive that this product category, as much as any we cover, keeps getting better and better. Testing the latest running shoes, for example, with their cushioned heels and lightweight design, our experts couldn't help but recall the chunky, flat-soled forerunners from decades past. Or consider interactive fitness apps, which only recently burst onto the scene, but have already transformed how we work out at home. The same way many people are leading longer, healthier lives, fitness equipment is on a steady path of improvement, often with advanced technology that gives users personalized feedback in real time.
That's not to say every new piece of equipment that hits the market deserves a place in your exercise plan. And of course, personal fitness is not a one-size-fits-all category. But as you look to take your health to new heights in 2022, this is the gear that our experts say stands to give you the biggest lift.
How We Tested
As part of GH's annual Fitness Awards, our product pros and consumer testers put the latest gear through its paces to find the best of the best. The Good Housekeeping Institute has a host of product and wellness experts, ranging from in-house registered dietitians, certified personal trainers and instructors, fiber scientists, mechanical engineers and more. When we vet fitness and nutrition items we look at them comprehensively. They have to deliver on what they're intended to, but also make sense in our reader's busy lives. We strive to deliver products that perform well, but also engage and delight to the user. To that end, for our awards program we also enlisted the support of consumer testers, helping us assess how easy the products are to set up and use, and whether they offer improvement to their lives. After getting hands on with well over a hundred products and thousands of data points collected, we feel confident this list will provide you with the right tools and advice to power you through your 2022 workouts happily and efficiently.
Meet Our Experts
Stay Connected
Top Fitness Apps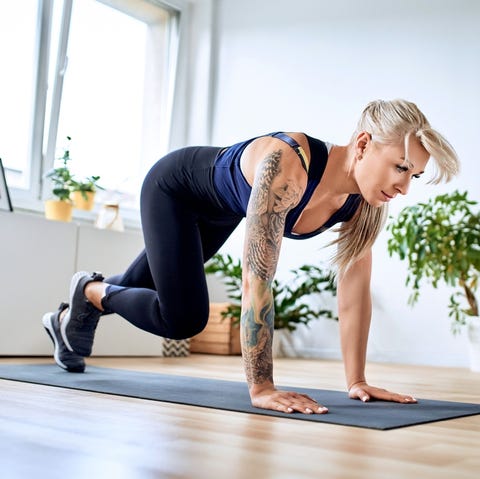 Top Pick for Personalizataion
WRKOUT
WRKOUT delivers premium personal training right at home, no physical contact required. Searching and filtering among trainers to find the right one to suit your fitness style is easy, and when you're ready for a video session, all you have to do is join through the website's portal.
Lab Results: Testers raved about the initial consultation, which paired them with a coach compatible with their workout goals and preferences. One-on-one video sessions with trainers offered live personalized feedback to improve fitness technique. When one of our testers mentioned he wanted to improve his fitness for soccer, he was matched with a coach who was a former Division One soccer player in college.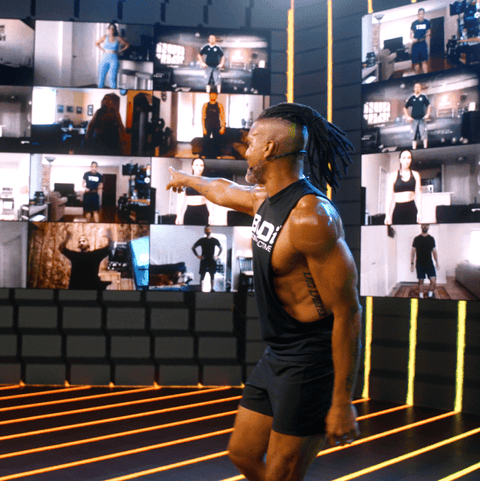 Best Classes on Demand
Beachbody on Demand
Beachbody On Demand impressed us with lively classes and programs led by high-quality instructors. Its new premium platform offers live activities ranging from challenging boot camps to Pilates as well as tons of nutrition tips. You can also get support from a free personal coach, and the group access provides community, nice for finding motivation — and inspiring others!
Lab Results: Testers especially enjoyed the energy of the live-streamed Bod-cast as they worked out as well as the variety of on-demand classes offered. That includes core, cardio, meditation and more. One user said that they loved "the instructors, fast-paced workouts and how easy it is to modify the exercises."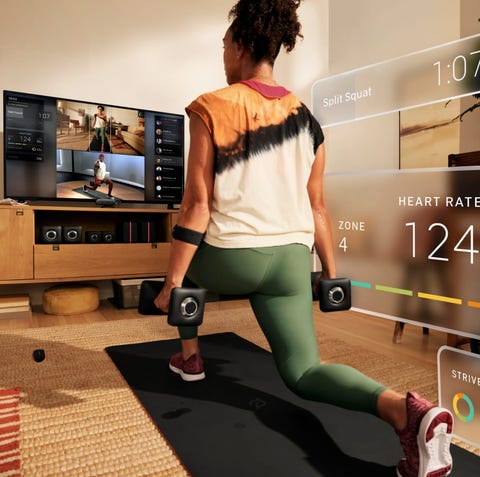 Best Boutique Experience
Peloton
The Peloton app isn't just for those who own the brand's bike or treadmill. The app features seemingly endless class options, including cycling and running, yoga, HIIT, strength training, stretching and more. The range of coaching is also quite diverse, so whatever your mood and goals for that day, Peloton has the right instructor to meet you where you are.
Lab Results: Testers loved the varied workout categories, the duration of classes, the motivational trainers and the general sense of community the app provided. One tester told us, "It was quick and simple to find whatever type of class you were in the mood for, and for however long you'd like the class to be. I was very impressed with the selection!"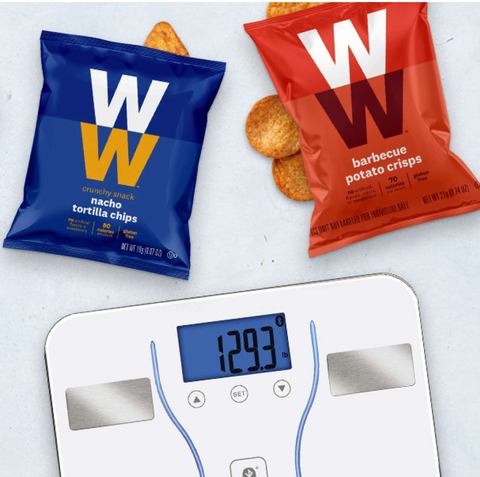 Best for Building Habits
WW Digital 360 (D360)
Learn More
Track your meals, PersonalPoints and daily activity as well as tune in to live coaching sessions, podcasts and other motivational content on the WW app. Fun workouts through Obé fitness are available as part of the subscription, and syncing with a smartwatch or fitness tracker is seamless.
Lab Results: Though the interface can feel overwhelming for some, testers loved the range of high-quality content and resources offered. One tester told us, "I found it easy to use, and I love that I can track not only my food but also my activity and sleep! This app makes it fun to track, and I feel happy to see 'wins' for tracking healthy habits!"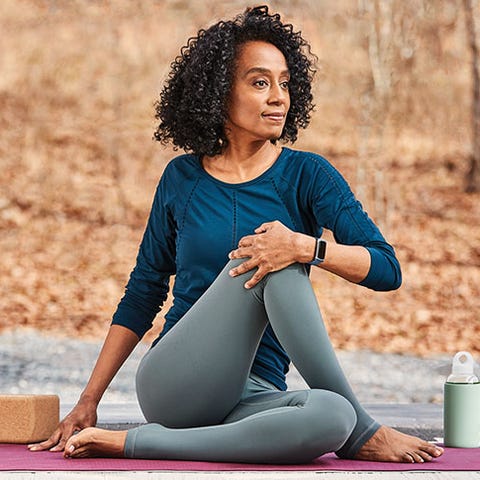 Top Pick for Tracking Activity
Fitbit Premium
The Fitbit Premium app features access to video workouts from a variety of platforms such as Fitbit itself, LES MILLS, Daily Burn, Obé Fitness and more. Other features unique to Premium include recipe inspiration, advanced sleep analytics and mindfulness sessions to help you wind down. It's a worthwhile upgrade to your Fitbit tracker or smartwatch.
Lab Results: Testers loved the look and feel of the app, and were able to find the workout they were looking for quickly. One tester claimed that they liked how "everything was in one app: food tracking, workout classes, step counter. It made it easy to access and keep everything in one place."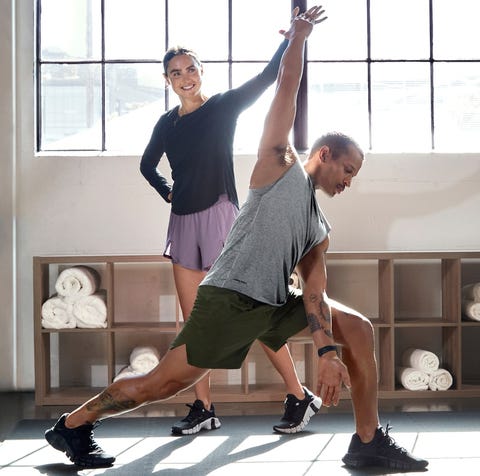 Best Free Fitness App
Nike Training Club
Learn More
Most fitness apps offer body-weight classes, including Nike Training Club, which doesn't cost a penny! Nike's app offers a workout for everyone, from quick core exercises to yoga flow to strength training. The app also gives you exclusive access to the latest Nike merch, from shoes to apparel, often with special offers.
Lab Results: Testers found the interface easy to use and liked being able to search and filter by workout type, muscle group or equipment on hand. One tester commented that "this service was very easy to use and perfect for a quick at-home workout. You can do it with or without equipment, which makes it great for wherever you are."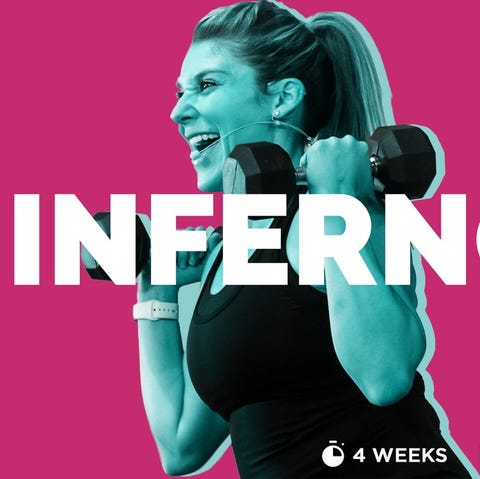 Best for Working Up a Sweat
Sweat Factor
Sweat Factor offers a range of workouts including HIIT circuits, low impact, strength, dumbbells and kettlebells among unique programs and challenges. There's even a curated schedule you can follow every day of the week to stay on top of your fitness routine, along with free workouts.

Lab Results: Our experts liked being able to filter by workout length as well as by trainer and class type, and testers raved about the diversity of workouts available. As one tester told us, "There's something for every level of athlete."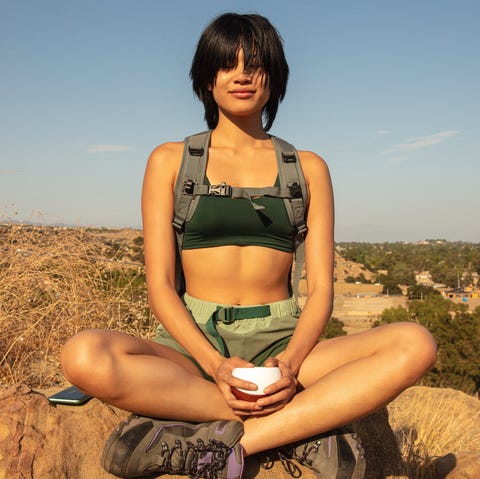 Mindful Meditation App
Core by Hyperice
Our testers liked Core by Hyperice, a meditation app with a handheld device that vibrates gently to center your attention and guide your breathing. From the app you can pick which meditation session to join, whether for sleep, anxiety, or stress.

Lab Results: Testers appreciated Core's natural wood design, which not only looks beautiful but also contains ECG biosensors to measure your progress. They found the vibrations soothing and instructive. One tester thought Core is a very useful tool for "busy people with time constraints to slow down and get in a quick meditation."
The Best Large Equipment
Mega Cardio Machines
The Best Large Equipment
Specialized Strength Training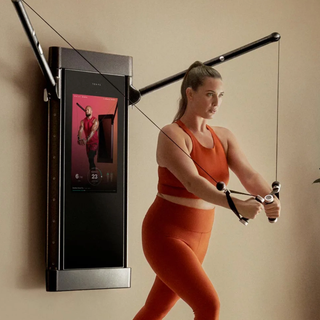 Total Body Toning
Home Gym
Tonal affords you a full gym in a compact form and can provide resistance of up to 200 pounds. It features a robust library of live or on-demand strength-training classes from motivating trainers. 
Lab Results: Our technologists were impressed with how intuitive the digital interface was, and our engineers with the variable capabilities of the weights using magnets and electricity.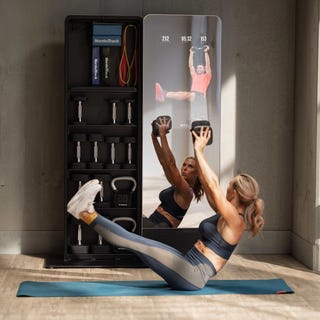 All-In-One Workout Mirror
Vault: Complete
The latest entry in the large-equipment category, futuristic mirrors provide a full gym experience in compact form. The NordicTrack Vault Complete's iFIT integration gets you access to thousands of workouts from world-class trainers.   
Lab Results: Our pros particularly liked this NordicTrack, with its integrated storage compartment to keep equipment neat and the intuitive touchscreen to stream on-demand programming.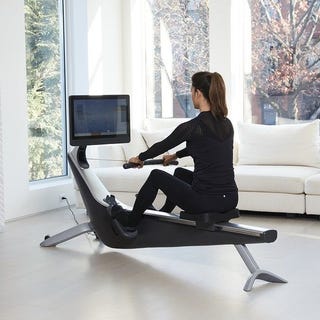 Totally Awesome Rower
Rowing Machine
Want a low-impact full-body workout? Look no further than Hydrow. "Rowing uses about 80% of major muscle groups," says Tony Maloney, an ACSM-certified trainer and head coach at Orangetheory Fitness in Noblesville, IN.
Lab Results: Experts liked the easy fold-up storage (with Upright Storage Kit, $80) and solid tech. They were also impressed by the scenic splendor of many of the virtual workouts. Plus, it's low-maintenance.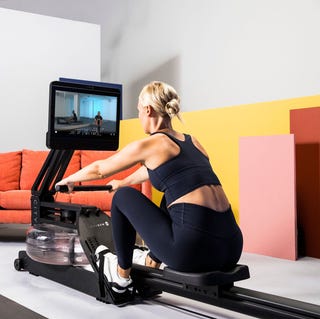 Sleek Water-Powered Rower
CityRow Go Max
For those looking for a beautiful wooden rower that uses water for resistance, CityRow's unique rower delivers. 
Lab Results: With hundreds of new classes added each week, including dozens of live ones, at-home rowers were able to access desirable content for an energizing, functional workout. Testers noted how they loved the varied workouts, enjoying both high-intensity sweat sessions on the rower and cross-training off the equipment with yoga, mobility and stretching classes.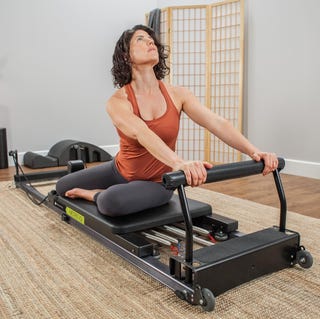 Compact Value Reformer
Metro IQ Reformer
A high-quality yet affordable machine, the Metro IQ reformer allows for a smooth carriage experience in the comfort of your own home. Its two-position shoulder rest can be removed for easy storage.  
Lab Results: Rothman, a certified Pilates instructor and a mechanical engineer, noted that she loved how the reformer could be set up in seconds and stored minimally under her bed! The Metro IQ can also be stored vertically.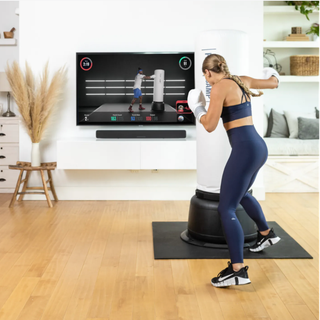 Interactive Boxing Trainer
FightCamp Personal
Boxing is an incredible workout, helping improve balance and strength. FightCamp combines cutting-edge tech with expert-led training to track and improve boxing workouts.  
Lab Results: Sassos loves how "boxing is an incredible workout that boosts endurance and builds full-body strength." Having experience with many platforms, she notes the quality in programming offered by this system.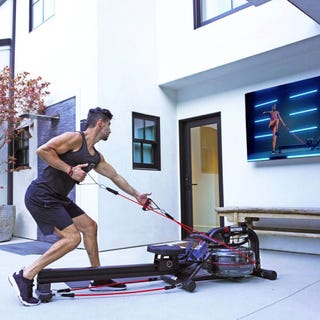 All-in-One Strength Trainer
Strength Machine
Combining a rower, a reformer and other strength-training elements into this versatile machine allows for multifunctionality. The custom LIT (Low Impact Training) workouts are designed to empower anyone, regardless of fitness background or goal.
Lab Results: Testers noted how it was able to deliver whatever their fitness goals were, thanks to the highly customizable experience, from rowing to cardio, barre, strength training, physical therapy, Pilates and more. One certified rowing instructor raved "It's durable, efficient, and effective, and it feels and looks great!"
Ultimate Small Gear
Next Level Toning Tools
World-Class Workout Shoes
Amazing Activewear
Wellness Wonders
Rachel Rothman, Good Housekeeping Institute
Chief Technologist & Director of Engineering
Rachel is the chief technologist and director of engineering at the Good Housekeeping Institute, where she oversees testing methodology, implementation and reporting for all labs.
Dan DiClerico, Good Housekeeping Institute
Director, Home Improvement & Outdoor
Dan DiClerico has written about home improvement for more than 20 years, including countless how-to articles and reviews of products ranging from appliances to smart home technology.