In yet another trial of cell therapy for heart failure, this time in cancer survivors with anthracycline-induced cardiomyopathy (AIC), administration of allogeneic bone marrow-derived mesenchymal stromal cells (allo-MSCs) was shown to be safe and feasible.
The phase 1 SENECA trial was conducted at multiple sites under the auspices of the Cardiovascular Cell Therapy Research Network (CCTRN) and was published online September 30 in JACC CardioOncology.
"This is the first in-human clinical trial of cell therapy for patients with anthracycline-induced cardiomyopathy, a very serious disease with a very grim prognosis which is actually worse than ischemic cardiomyopathy, and for which treatment options are very limited at the moment," first author Roberto Bolli, MD, professor of medicine and director of the University of Louisville's Institute of Molecular Cardiology in Louisville, Kentucky, told theheart.org | Medscape Cardiology.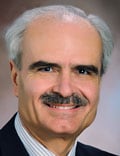 "The study was successful in showing that the treatment is safe, we did not have any serious adverse events, and that it is feasible in all patients," Bolli said. "We also wanted to see if there was a signal for efficacy, but I want to stress that this was a small study and was not powered or designed to establish efficacy," he added.
SENECA included 31 patients. Most (68%) were women; 32% were non-White; 14% Hispanic; and the mean age was 56.6 years (range 44.8 to 68.4 years). The most common cancer was breast cancer, in 48%, followed by non-Hodgkin lymphoma (19%), leukemia (10%), Hodgkin lymphoma (3%), and sarcomas (3%).
The average interval since cancer diagnosis was 17.7 ± 8.9 years, and since the last cancer treatment, it was 15.2 ± 8.4 years. The average time since AIC diagnosis was 7.5 ± 5.5 years.
After an open-label lead-in phase done in 6 volunteer patients established that the procedure was safe, the 31 patients were randomly assigned to receive either allo-MSCs (n = 14) or cell-free placebo (n = 17) administered via 20 transendocardial, electromechanically-guided injections.
Baseline variables were similar in both groups. The average left ventricular ejection fraction was 33 ± 5.3%, 84% of patients were in New York Heart Association functional class II, and the average NT-proBNP value was 1426 pg/mL. All were receiving maximally tolerated medical therapy for heart failure, and 58% had an implantable cardioverter-defibrillator or pacemaker.
The patients were followed up for 12 months. A total of 93 adverse events were reported in 27 study participants. Forty-two of these met the definition of serious adverse events; however, none of the 93 events were deemed to be related to treatment with allo-MSCs.
All patients randomly assigned to receive allo-MSCs were able to receive the protocol-specified dose of cells, thus proving feasibility.
Although SENECA was not designed to show efficacy, the researchers explored whether allo-MSCs produced a trend toward improved left ventricular function and functional status when compared with placebo. Variables that were evaluated included ventricular volumes, ejection fraction, and scar size as measured by MRI; 6-minute walking distance; NT-proBNP blood levels; and changes in quality of life as measured
…